Brinc has selected 19 new startups to join their Hardware & IoT accelerator program in Poland. Together with Polish Agency for Enterprise Development (PARP), Brinc is excited to help them solve some of the world's biggest problems through business.
These game-changers will enjoy full access to Brinc's world-class startup support ecosystem of in-house and global mentors, corporate partners & investors, and a global perks package, to enable them to scale up while perfecting their products and services. Brinc's goal is to be able to support this new batch of startups in areas they are most passionate about and believe will drive the most sustainable impact to the planet delivering against their theseis of driving profit with purpose.
Here's a quick rundown of the companies joining the Brinc family in Poland:
AVEZTO (Poland) — Avezto works on upgrading production time management software to an autonomous version which will be backed by a set of sensors connected with machines. Thanks to Avezto's solution, paper document flow will be reduced significantly.
Boomerun (Poland) — Boomerun develops a software and hardware solution which collects physical activity data to provide marketing personalization. Data collected by the Boomerun app can help create a unique marketing campaign. The hardware component of the project includes additional integration of wearable devices with the Boomerun app, which will facilitate a broader scope of data collection.
CHATBOX (Poland) — Chatbox creates virtual assistants for their customers via a compact robot. By analyzing speech and using artificial intelligence algorithms, it will be capable of conducting dialogue and providing sensible and helpful answers.
Ekobilet (Poland) — Ekobilet is working on an innovative hardware solution called "Ekokiosk", which combines the advantages of ticket sale digitalization with supporting local culture and tourism. The idea behind the project is to create stationary, maintenance-free kiosks which will be used to sell tickets, entry passes and vouchers for cultural events in a quick and contactless process.
F44 (Poland) — F44 introduces spatial data recording technology to the market. The system offers tools not only for data collection, but also for storage, analysis and presentation.
Graplo Playgrounds (Poland) — Graplo Playgrounds is building an interactive aquarium, which will create a chillout zone for kids and their parents. It will consist of an L-shaped interactive area (2 big perpendicular touchscreens) intended to imitate a real fish tank. Using an additional fish creator app, kids will be able to put their fish into the aquarium, watch and interact with them.
InfoTruck (Poland) — InfoTruck is building a system intended for companies in the transportation sector. It was created as a response to the needs of the industry to support the process of calculating drivers' wages and auditing work time settlements. The solution not only reads data stored in memory of digital tachographs using an interface connected to an android phone, but also collects data about the location of the vehicle.
LUK.System (Poland) — LUK.System is creating a real estate ticket managing system for businesses. It is designed to take care of any technical issues that can arise in case of outsourcing services and technicians. The system will be scalable and thanks to it's intuitive interface, it will reduce employees' workload and distraction from other tasks.
Mall Promo (Poland) — Mall Promo is working on a SaaS platform for shopping malls which can be used to create and manage the implementation of any pro-sale campaigns in the form of a dedicated web application — the Mall Promo platform.
Micromobility Solutions (Poland) — Micromobility plans to build a sharing platform for low-voltage electric vehicles (e-scooters, e-bikes, e-mopeds) operating in a docked model. This universal docking and charging station for all three types of vehicles will be available through a dedicated software and mobile app. Stations will be installed next to hotels and office buildings and will offer mobility solutions to hotel guests or corporate employees.
Movitrade Energy (Poland) — Movitrade Energy is developing a tool for measurement and complex analysis of thermal energy consumption from district heating for both industrial and domestic use cases. The project outcome is to predict the needs for district heating and usage rationalization of available heat sources while maximizing use of waste heat.
Prosoma (Poland) — Prosoma is developing a platform for pharmacy chains. The mission is to educate society, help fight fake medical information, and propagate medical knowledge in an easy way using video animation and simple messages. The content will be aimed at children and senior citizens and will also describe issues related to drug and substance abuse.
Redebtio (Poland) — Redebtio is creating a system which will automate the monitoring of contractors and their invoices. Machine learning algorithms will be used for cash flow forecasting.
Retailo (Poland) — Retailo is creating a universal and modular system called PickUpWall which will be used by stores for picking up customers' orders in store. It will be easy to integrate with existing customer systems and will come with a simple interface for easy use.
SCDS (Poland) — SCDS creates a Digital Signage solution for public transportation, which will be managed by City Authorities. The main advantage over existing solutions will be the possibility of managing the system by multiple owners. Screens can be shared by different institutions and will be able to display content independently.
Smart Logistic Solutions (Poland) — Smart Logistic Solutions is creating a complete solution for freight companies which will help them reduce fuel consumption and fuel theft by truck drivers, which is one of the most common problems these companies face.
SMDigital (Poland) — SMDigital is creating a software that facilitates the management of advertising campaigns / content on different media platforms. The software will not only help manage campaigns, but also shorten the time needed for technical support. The solution will combine functionalities of many different advanced content management tools in one place, but will be focused on speed and simplicity of operations.
Sulicz Solutions (Poland) — Sulicz Solutions is creating a system which will help add more functionalities to already existing multimedia devices in shopping malls, such as wayfinder screens. For example, it will enable the sale of prepaid cards on these screens using quick payment technology. Cards will be issued from a device equipped with a computer and a magnetic card dispenser.
Sensonet — Sensonet has created SENS.ONE, a software that collects data from IoT devices equipped with sensors, such as strain gauges, accelerometers, tachometers, frequency meters, manometers, etc. SENS.ONE analyzes data in real time and reacts to pre-programmed triggers. The reaction may be to send an SMS, e-mail, or transfer information to another platform. SENS.ONE will be connected to an existing device data collection system via API, and will also suggest the work plan of the service personnel to make their work easier and more effective.
---
Brinc's Scale-Up Poland Program is a 100% online 5-month accelerator, that is uniquely designed to support global startups that have fully developed technology solutions and are ready for commercialization.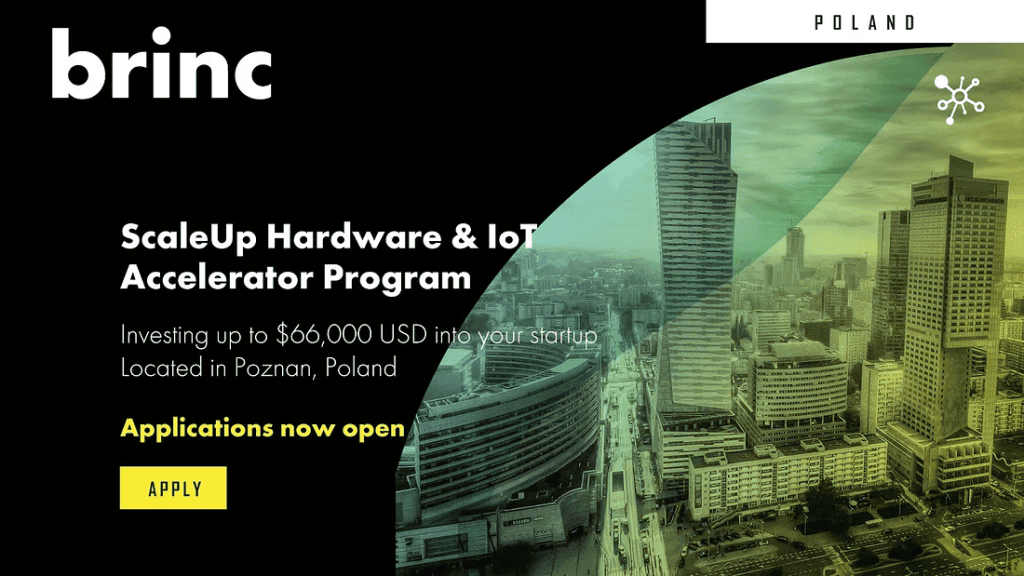 The program provides a grant of up to $66,000 USD into each startup accepted. Brinc will support the teams to facilitate commercial agreements, to help scope and secure pilots/POCs, while also opening up growth opportunities locally and internationally for companies. Upon completion of the program, Brinc will continue to support company growth through business development, provide capital raising guidance, and ensure a deep connection to the growing Brinc family of founders globally.
Brinc accepts Connected Hardware & IoT startups twice a year (Spring & Fall) into the program. New teams will be onboarded as each cohort begins.
---
Brinc is a different breed of venture capital and accelerator platform. Core to our business is the belief that some of the world's biggest challenges can be solved by entrepreneurs, who we like to call GAME CHANGERS. We believe that deep technology focused startups can fundamentally change how we move, what we eat, how we feel and where we live for the better if they are given the right backing. That's what we at Brinc believe are here for. To support and mentor founders and their teams from across the world and provide investment to help them grow. We currently operate twelve multi-disciplinary accelerator programs across six countries and have made 130 investments. Learn more: https://www.brinc.io/